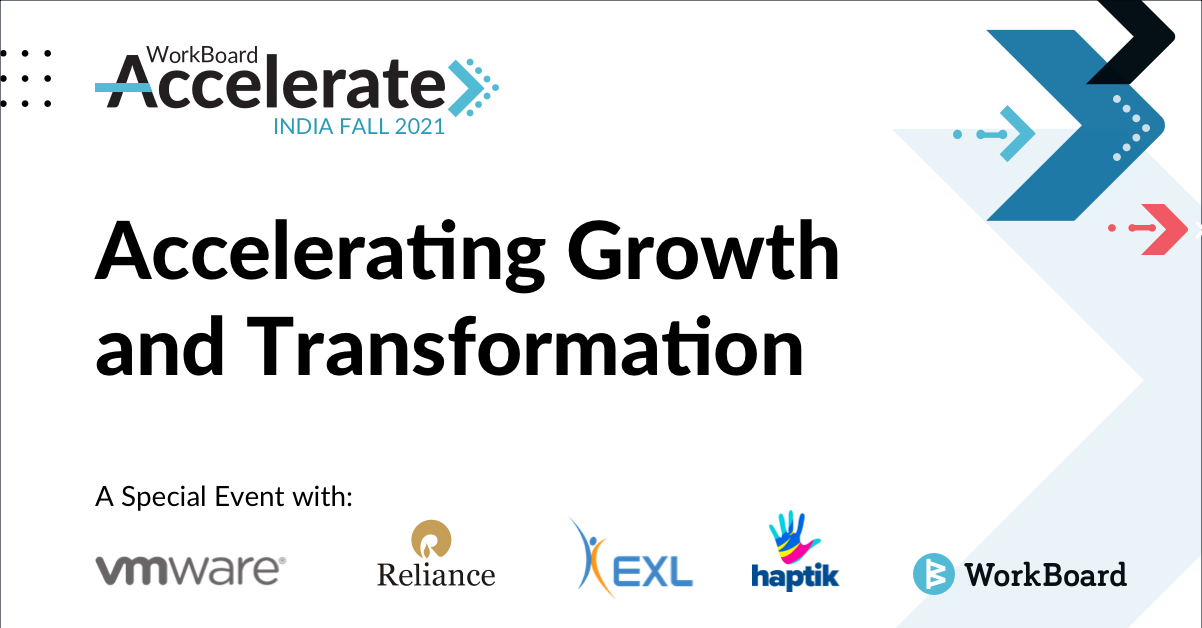 This past month I was thrilled to gather with more than 100 incredible, forward-thinking leaders and executives around the globe for a day of learning and conversation as host of our 2021 first-ever Accelerate India event.
Leaders from Haptik, VMware, Reliance Industries and EXL shared exciting new ways they are leading and organizing their teams to execute the bold strategies of their orgs and accelerate results in their fast-changing global markets that span India and beyond.
Digital Pace and Customer Expectations Rising Across Industries
With a May 2021 survey by McKinsey showing that only 11% of CEOs believe their current business model is viable for the future, we know that generational transformation, and acceleration of technology is happening in every industry. What a phenomenal opportunity to access wisdom and insights from those who are leading that transformational charge!
"They are leading the way and leading results in their organizations," said WorkBoard CEO and Co-Founder Deidre Paknad, who led off the Accelerate India conversation with a discussion about digital operating rhythms and rituals that help companies grow faster.
Transformational Journeys that Increase Results and Purpose
Now, we are sharing each of these insightful Accelerate India 2021 conversations so you can learn how these executives are leading transformational journeys and overcoming challenges that are likely to sound familiar:
Leading the Conversational AI Revolution with OKRs
In his presentation, Aakrit Vaish, Co-Founder & CEO, Haptik explained how OKRs and WorkBoard helped Haptik build the better alignment and visibility that enabled their organization to drive meaningful impact during the pandemic.
Transformation through Collaboration
Jayen Desai, Director of Strategy & Business Operations at VMware detailed the transformational impact collaboration has had in executing the organization's strategy. "Engagement, empowerment and collaboration across teams, functions and business units accelerates strategy execution," he said.
Making Speed Your Competitive Advantage with OKRs
Gagan Kharbanda, Vice President and Chief of Staff, EXL shared how the shift from legacy management practices to a digital operating rhythm has helped the organization respond nimbly to changes in the market, drive faster outcomes, and elevate every team's impact.
OKRs Across Industries at Reliance
Seema Nair, Senior EVP and Member, Chairman's Office, Reliance Industries Limited shared how they have operationalized WorkBoard and OKRs to deliver better results at massive scale across multiple organizations and industries.
Don't Miss Out!
Head over to the Accelerate India page to check out each of these fantastic sessions, available on demand for a limited time.
And then let us know — What challenges are you facing?
We'd love to hear your thoughts. Do these challenges sound familiar? Which insights resonated with you? Share them with us on LinkedIn and Twitter.
And learn more about how WorkBoard can help your organization power its digital operating rhythm: request a demo.
Like it? Get more and share!