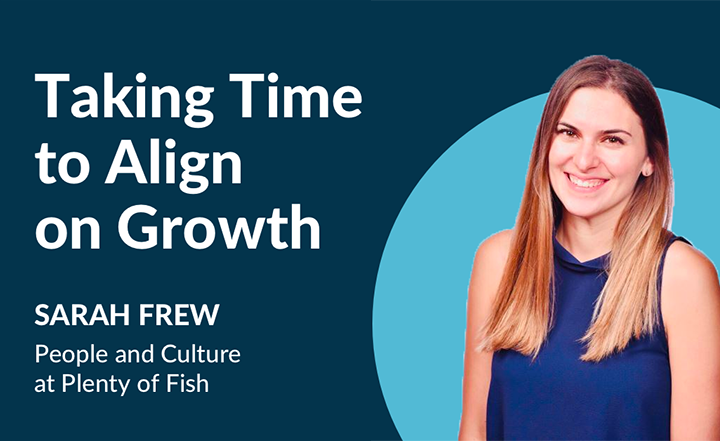 We sat down with Sarah Frew, People and Culture at Plenty of Fish, to talk about how the fast-growth startup drives fast, full cross-team alignment from the leadership team to squads and functional teams with OKR themes and a formal OKR Week in which the whole company gives attention to purposeful alignment. Sarah shares what they've learned over 2 years and how their feedback loop improved their process.
Tell us about your role at Plenty of Fish.
Sarah Frew: Plenty of Fish is one of the largest global online dating platforms and part of the Match Group portfolio. We're reminded every day that the work we do profoundly impacts millions of people's lives as they use our platform to find love. We're based in Vancouver, British Columbia, and have more than 130 employees. We, along with so many companies right now, are navigating this new remote working environment. I've been with the company for over five years and work on the People and Culture team as the Senior People and Culture Generalist and support onboarding benefits, administration, employee engagement, our OKR process, and the overall employee experience.
How and why did the company start using OKRs back in 2018?
Malgosia Green, our CEO, recommended the OKR framework. She was familiar with the OKR methodology. We were in talks about sharing our new company vision and thought it might be a good opportunity to implement WorkBoard to focus and inspire organizational alignment. We were going through a big hiring push and growing as a company, so it felt like the time was right to adopt OKRs.
What has been your role in enabling the OKR practice, and how does that fit into what you do at Plenty of Fish?
I had the opportunity to become an OKR coach and help own the process. I went through the training at the WorkBoard office, which was awesome — it was great to meet fellow members of the OKR team.
We were then focusing on bringing what I learned as the OKR coach back to Plenty of Fish. We had four coaches running our OKR planning process at first. Last quarter, we removed the OKR coaches, and the ownership is now with our squad and functional leads.
You now have a brilliant OKR reset cycle and a quarterly rhythm that has evolved from your learnings over the last few years. How do you run that quarterly cycle, and what is the rhythm?
We wanted to find a way to allow our squads (our cross-functional teams are called squads, and they are made up of product managers, designers, engineers, analysts, IT, etc.) and functional leads to own the OKR planning process.
We give our squads the support and tools they need to build and deliver products — they're empowered to decide how best to work together. We wanted to set everybody up for success for an OKR week, but we also wanted to allow our squad team members to mold it organically and do what works best for their teams. We eventually put an OKR week in place with buy-in from the executive team. The OKR week is a time to mentally clear everyone's plates by removing the distraction of other meetings and responsibilities for that one week.
There was some trial and error — and definitely some key learning opportunities — but we've managed to come up with an OKR week that is broken into seven components: retro session, executive off-site, company all-hands, sync-up, planning sessions, review sessions, and then an executive team review.
Take us through a deep dive into each stage.
We usually kick-off OKR week in the middle of the week, starting with retros. We schedule one-hour retro meetings for the squad and functional leads and ask them to prepare notes and key findings from their session by the end of the day. We collect that data and prepare it for the executive team to review the following day.
The executive team then takes a day to reflect on those notes and discuss where we should be going for the next quarter. By the end of their day session, they've come up with the OKRs for the next quarter.
We have the company all-hands the following morning, during which the executive team communicates the quarterly OKRs to the entire organization. Shortly afterward, we have the sync-up sessions where the squads and functional leads meet with their respected executive team member to clarify the OKRs for the quarter and discuss possible alignment opportunities.
It's important that, at this point, we pair up the squads we know are going to be working together in sync-up sessions so they have the opportunity to brainstorm while keeping in mind the possible dependencies and where they might be working together for the quarter.
After that, we dive into three days of planning sessions where each squad and functional team meets for three hours. We've found that splitting the sessions up has been quite helpful. Since the squad leads schedule these meetings, they can communicate any overlap as we often have squad leads or squad members that are in different sessions.
On the fourth day, the squad leads meet again with their executive team member to review the OKRs before they're added to WorkBoard.
The goal is to have the OKRs in WorkBoard by the end of that session so that the last and final day of OKR week is dedicated to the executive team review session. That session is where they pull up WorkBoard, check the heatmap, have the full scope of what the quarter looks like, and provide any additional comments.
It feels like a jam-packed week, but we've found incorporating the sync-up and review sessions has encouraged and enhanced our communication channels and driven engagement for the process.
There are so many smart things about your OKR week that I know other companies and organizations can apply. Giving everyone the same agreed-upon time to focus without competing with other meetings is such a smart move. The executive team dialogue and review of the OKRs across the organization ensure alignment, which is important — some organizations skip that part. But without that agreement, things can get awkward a few weeks into the quarter.
Yes. And it's great because when we share the week, we let everybody know when the executives will be off-site to discuss all that alignment. If there are additional comments, that discussion can just happen right then and there. The idea is once the OKRs are in WorkBoard after that final review, we're getting started with the quarter.
That gives everyone confidence, right? Because there's buy-in from your squad and the executive team, which lets you know you're on the right track and you can get off and running at the start of the quarter.
Yes, it gives people trust in the process.
Having the leadership team look at the whole company's OKRs together ensures they're taking responsibility for lateral alignment — doing this review together causes them to take collective responsibility for things. I think that's powerful.
We're happy with it. Hopefully, this can help inspire some other OKR weeks for other teams.
And you have themes for OKR week each year?
Yes. We like to be creative, and we try not to take the planning process too seriously. Creating puns is part of our office culture. We knew that our team members would be motivated by thinking of engaging and relatable themes that highlight our culture — from movies and shows to music to whatever is on people's minds at the time.
And that helps build momentum and creates a communications rally?
I think it does, and it's always fun. The executive team starts the theme off at the company's all-hands. After that, as our squads and teams start to brainstorm, we either take the theme they've chosen and interpret it our own way — or we just come up with our own separate theme that doesn't necessarily have to link directly to the executive team's, but it's more fun when it does. I do think that all this drives the momentum for the quarter.
To borrow a phrase from the OKR coach methodology, that's serving a lot of double espressos around the building.
It's inspiring — if you're looking at the theme the entire quarter and looking at the heatmap and seeing those objectives, it creates a smile when you think about the planning session and how it was fun to put everything together. I think it keeps us going.
You gather the feedback from the retrospective that goes all the way up to the leadership team's eyes. I'm sure that it produces insights, learnings, and ways to improve every single quarter. How have you turned that feedback into other improvements you've made in your OKR process over time?
We knew that we'd have a learning curve when we introduced OKRs. From the beginning, our executive team shared feedback in a symptom and solution structure where they turned what they heard into best practices for the next quarter to reassess and to adapt.
One best practice example is: it's okay to revisit an OKR if there's a fundamental change during the quarter, and it's no longer relevant.
We encourage team members to talk to their executive team member and decide if it's better to adapt the KR to the situation or remove it completely. We wanted to acknowledge that we understand that things change, and if we had to remove the KR because it no longer serves a purpose in the quarter, we could do that.
What else was revealed in your symptoms and solutions learning?
The reminders in Slack to update OKRs and WorkBoard were missed. We recognized that sometimes people forget to go into the system and update, so we had to find another way to get into the habit of updating the KRs.
We started a weekly OKR meeting where the engineering managers, product managers, etc. of the squads would come prepared with their updates and discuss them in that meeting.
That meeting acted as a reminder to update WorkBoard and provided an opportunity to have everybody in the room to discuss roadblocks and dependencies. They could then take those notes back to share with their respective squad teams to make sure everybody was on the same page.
Our data across all of our customers shows us broadly that teams that focus on their key results weekly achieve 19% more of their KRs than teams that don't. What is your team's results ritual?
Functional teams, such as the People and Culture team — and our Office Management and Customer Success are seen as functional teams as well — have their own updates.
On my team (People and Culture), we all pull up WorkBoard on Friday at 9:30 and make sure that we've done our updates for the week. OKRs have provided a balance of ownership where team collaboration and work can be both cross-functional and functional.
We recognize that for some of the functional teams, such as People and Culture, it makes more sense for us to have day-to-day OKRs — KRs that grow the business and help run it. We shared these KRs as a best practice: they don't have to be project-focused to be important and provide just as big of an impact.
You don't have to be launching something to be contributing to the business. Being strict about reserving OKRs for certain purposes misses the point that every team makes a real contribution to the business — and especially while we're all working remotely, everyone needs to know their contribution is seen.
Now that it's a best practice that the executive team supports, some of our objectives focus on addressing the day-to-day stuff so that squads, including Office Management, People and Culture, Customer Success, and others, can feel they're making just as much of an impact.
It was a really nice light bulb moment when the quarter ran a little bit smoother once we shared that OKRs can be set up that way.
How does your organization treat meetings where there are things in the red? How do people react to that situation emotionally?
Well, I wouldn't say we're comfortable with seeing the red, but we don't panic — we talk about whether it warrants a discussion.
We're a tech company; we know how quickly things can change. And it is important to recognize when the right time is to investigate and navigate the roadblocks.
We're slowly learning to embrace the red and make sure we take the opportunity to figure out what avenue we need to go down.
What guidance, coaching, and advice would you give to other OKR process leaders at the beginning of their journey?
The OKR framework has helped us build momentum, inspire, and create excitement around future growth. I would definitely encourage leaders to have fun with the program where possible and try to adapt it to their office culture. If you get feedback, try to acknowledge it and implement it as best you can, because it creates trust for the process. And just know that you won't get it right the first time — be prepared to adjust and make changes to your planning process along the way.