A strategy is only as good as its execution and teams that execute their strategic initiatives at high velocity are more fun to be on! Only WorkBoard's OKR platform unites strategy and execution seamlessly to enable data-driven, agile teams to define, measure and execute their strategic priorities in fast sprints. Now, here is how we have enhanced Kanban and collaboration boards to make high-value work much easier to visualize and act upon:
Personalized boards to distinguish the work and the team
Automated the flow of work and communication to reduce administrative steps
Boards of actions, images, projects, people and more to manage it all
A great strategy needs a great plan of action or it's just dust in the wind
Move from ambitious strategy to fast and effective execution with collaboration boards. Organize, visualize and automate more of your strategy-aligned work. Here are just a few ways customers are putting their strategies in motion and crushing it:
Customer Renewals Board Most software companies have a strategic priority to reduce churn, but lack visibility to the discrete accounts and the work required to maintain each of those accounts as clients. Manage account or subscription renewals with columns for likely to churn, at risk and ready to renew with stop light colors for each. Automate status changes and hand offs by simply dragging an account across different statuses. Finally, update your key results to showcase percentage of accounts renewed on your WorkBoard Business Review.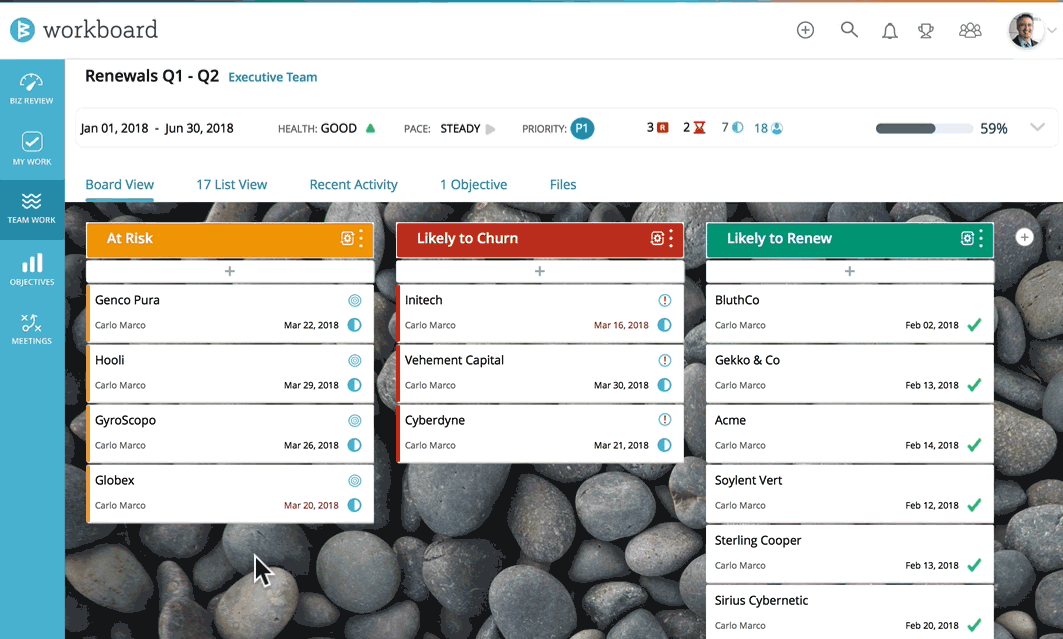 Journey and Value Maps: Developing personas, articulating their respective value and ensuring it's embedded across marketing messages, sales training, customer onboarding, and product roadmaps is a strategic priority for all product companies — but it's inevitably challenging to orchestrate that process cross functionally. Lay out the sequence of work with clear ownership across teams and personnel, tie it to your strategic priorities and let the work flow.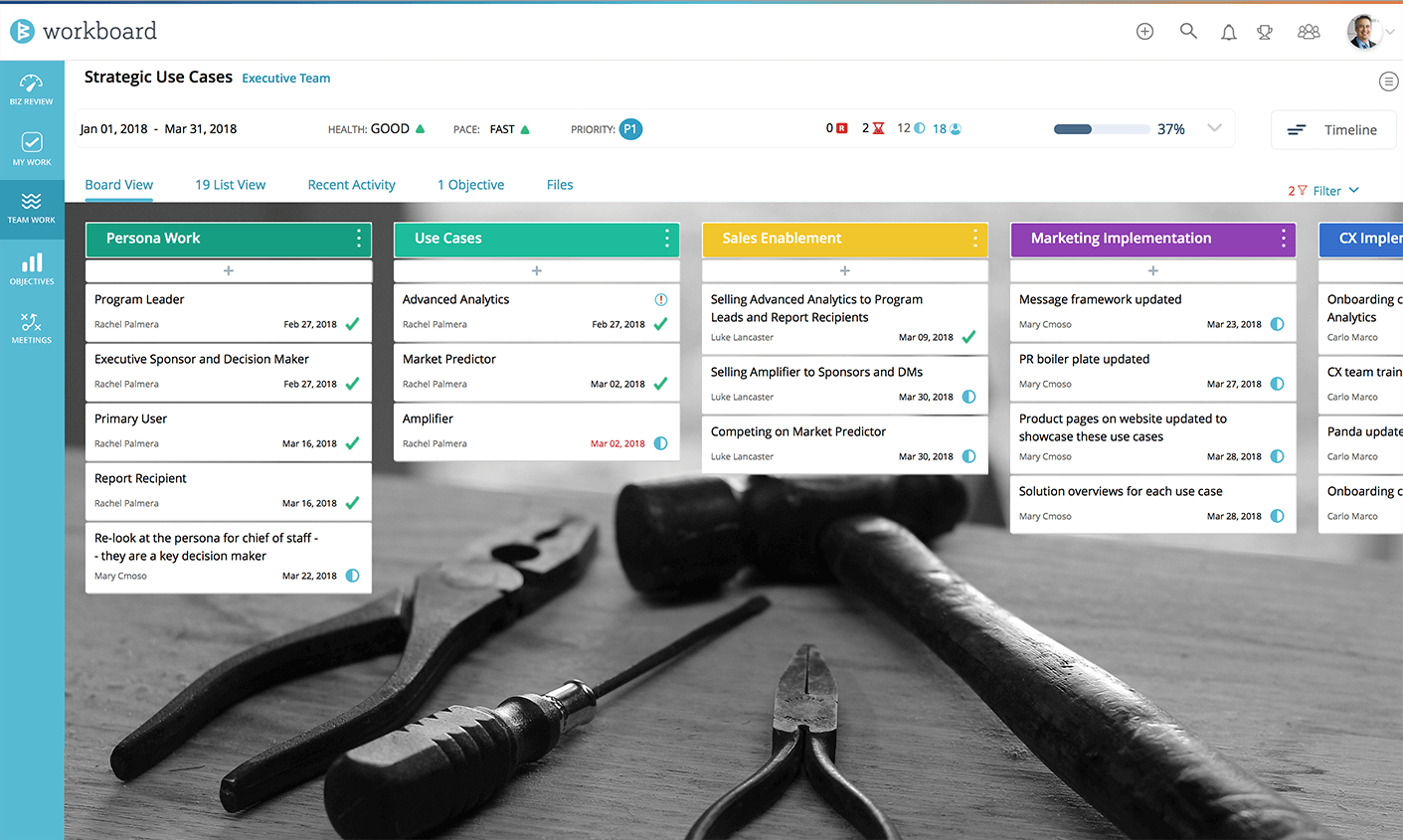 Content Approvals: Innovative companies make it a strategic priority to position differentiated value in on-point content to the right audiences at the right time. Move from content draft to production faster by automating hand offs in the process. Create a flow from ideation, copy, creative, review, iteration and publication with seamless hand offs. Streamline the content-creation process, avoid missed deadlines and confusion on status and ownership.
Values Board: "Living the values" is how companies and teams meet their own expectations. Create a visual board illustrating your organization's values so everyone has them line of sight every day; align the values board with an individual "Live the values" objective for each team member, and it will automatically be on the agenda of your 1on1s in WorkBoard.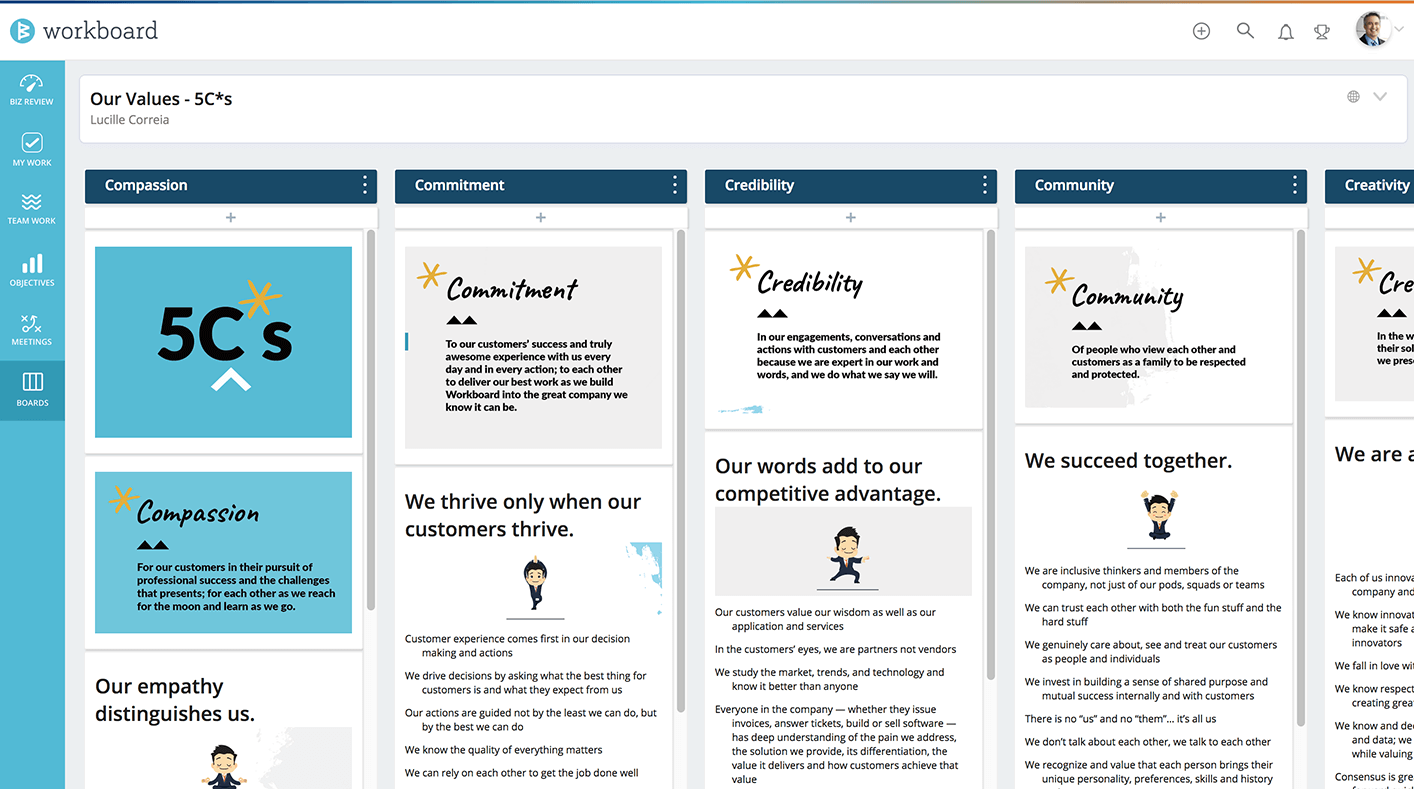 Getting the right people on the team a strategic priority? Use a people board to drive the hiring and onboarding flow. Launching a new solution? Use an action board with automation to trigger alerts and sequence work across functional teams. Connect transparent strategic priorities with clear metrics for success with a shared plan of action to make a bigger impact.
Get a free consultation and demo on how to better articulate your strategic priorities and organize to achieve them!