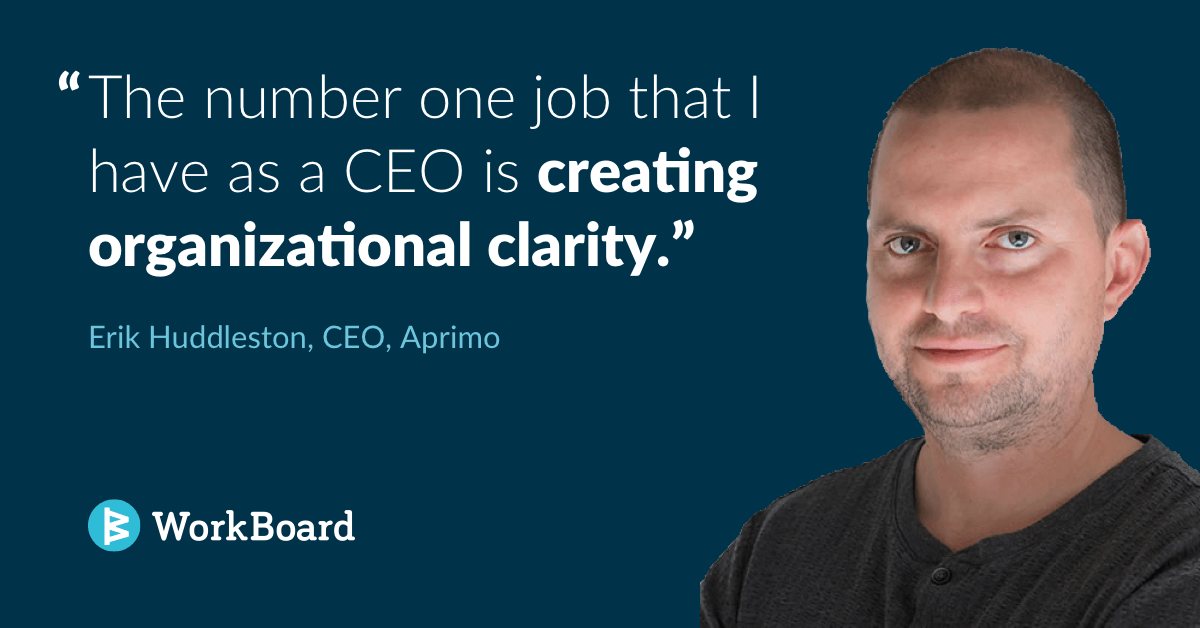 "The number one job that I have as a CEO is creating organizational clarity. I have found it is the thing that creates the most scale inside our organization to accomplish the objectives that we set out to accomplish from a strategy standpoint."
—Erik Huddleston, CEO, Aprimo
Erik Huddleston operationalizes Aprimo's organizational clarity through OKRs, and the success of enterprises like his whose strategy is underpinned by OKRs is what is fueling the renaissance in the practice, according to Gartner analysts.
"If I were to name one big idea in business that is (A) highly impactful, (B) under the radar and (C) trending up, my first pick right now would be objectives and key results, or OKRs between friends," Gartner senior analyst Aapo Markkanen says in a recent blog post.
Gartner predicts the use of OKRs will continue to grow over the next few years "within tech and verticals beyond." Markkanen and his colleague Ron Burns, a senior research director interviewed companies that are using OKRs or plan to and concluded: " if a company has persistent problems with alignment and/or responsiveness of its strategy, then OKRs are absolutely worth a look."
Here's what Gartner says is driving more companies toward OKRs, according to Markkanen:
Digital transformation: As more companies become digital converts, Gartner says, they feel pressure to change their approach to strategy as well. Additionally, many are putting the notion of product at the core of their transformation. "If you accept the premise that software is eating the world, then think about OKRs as heartburn relief."
Expansion of Agile: OKRs are the "strategic fabric" that allows different departments to respond to changing circumstances (read global pandemic) faster than they otherwise would. Also, the logic of OKRs inherently forces organizations to become more focused on the ideas and initiatives that create the most value.
Remote work and distributed teams: With the pandemic removing the "safety net" of having employees located in a shared physical space, organizations are scrambling to find ways to effectively determine and communicate their priorities. "Concisely defined and transparently applied OKRs that flow consistently across the organization have allowed many companies to keep their unexpectedly dispersed staff on the same page."
Digital OKR Platforms: "If OKRs live only in spreadsheets, slides or internal wikis, it can be a cumbersome framework for managers to get off the ground — and, especially, keep in the air," he writes. Platforms that "orchestrate, automate and visualize OKRs can make a world of difference."
Here are the best practices Gartner recommends when adopting or improving your enterprise use of OKRs:
Adopt an Outcome Mindset: "Outcomes outdo outputs," Markkanen writes. Objectives that inspire and energize teams are the source of innovation and speed. For OKRs to be relevant, they should focus on customer-facing outcomes instead of an organization's outputs, he adds. He offers a hypothetical example of how to translate objectives level by level into measurable outcome-oriented key results.
Drive strategy, not performance assessments: Decoupling employee performance management from team OKRs can empower organizations to outperform themselves quarter after quarter. And while the enterprise's OKRs can be set at the leadership level, teams have "a greater sense of ownership over the work they do" if they have a part in defining their key results. It frees teams to ask "What do we want to achieve? instead of "What can we realistically achieve?" This helps teams tap into their own ambitions which elevates their achievement.
Lateral alignment unlocks value: OKRs that align across different business functions provide greater transparency, clarity and accountability to achieve results faster. Lateral teams aligning on common outcomes are an enterprise value accelerator.
Digital first - OKRs are data: "OKRs are more effective when the key results are based on real quantitative data instead of somebody's views and opinions." Also, using a digital platform that offers a well-designed user experience and relevant third-party integrations overcomes any "technical bottlenecks" of scaling OKRs throughout an enterprise.
You can learn more about the WorkBoard Results Foundry here.
Deborah Petersen is a content strategist at WorkBoard. Reach her at deborah.petersen@workboard.com and follow her on Twitter @deborapetersen
Like it? Get more and share!