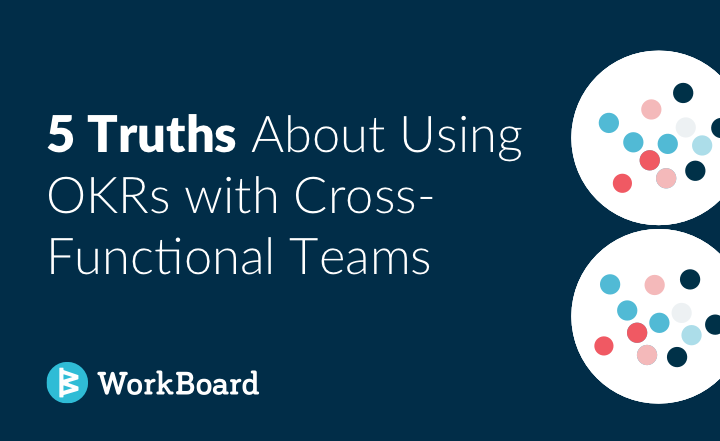 In Nigel Stacey's recent blog for Accenture, Together Makes Better: How to Drive Cross-Function Collaboration, he emphasizes that focusing on cross-functional collaboration can help companies further digitize in times of shaky supply chains and sluggish demand:
"Even in "normal" times, a lack of collaboration on complex challenges like digital transformation can cost organizations ROI and future revenue growth. In the time of COVID-19 and economic downturn, the age-old silos problem could be disastrous."
Forming teams across functional lines help companies stay relevant, innovate, and drive more profitable growth through collaboration than those that remain siloed. OKRs are a perfect methodology for keeping cross-functional teams aligned, focused, and moving toward results, especially in the current remote work model.
To realize their full benefit, a scalable approach to OKRs is necessary, including expertise to master the methodology, technology to show alignment, risks, and progress, and the coaching necessary to guide and develop quarterly organizational improvement.
OKRs and cross-functional teams
OKRs provide a common framework and quarterly process for teams to articulate and align what they want to achieve, focus efforts on measurable outcomes, and iteratively learn with data over time. For cross-functional teams, these capabilities hold each contributor accountable for delivering the outcomes that drive a company's strategic priorities from anywhere, anytime.
In fact, OKRs:
These companies paired OKRs with proper technology infrastructure, expertise, and coaching to realize their full potential and best possible outcomes.
Drive results with agility
As Nigel writes, "even in 'normal' times, the lack of cross-functional collaboration costs organizations ROI and revenue growth. In the time of economic downturn, cross-function competition—especially on matters concerning digital transformation—could be disastrous."
Many companies create cross-functional teams that set OKRs for a line of business, product, or product family. These teams might include PMs, the revenue lead, the CX lead, and Dev team leads. For those teams to stay focused and succeed, they need a scalable and simple management framework; they need a powerful alignment that helps stakeholders stay in sync on the facts and accountable to each other — they need OKRs. When powered by a platform and the consulting and coaching necessary to see results with it in the first quarter, OKRs are a force multiplier for any company.