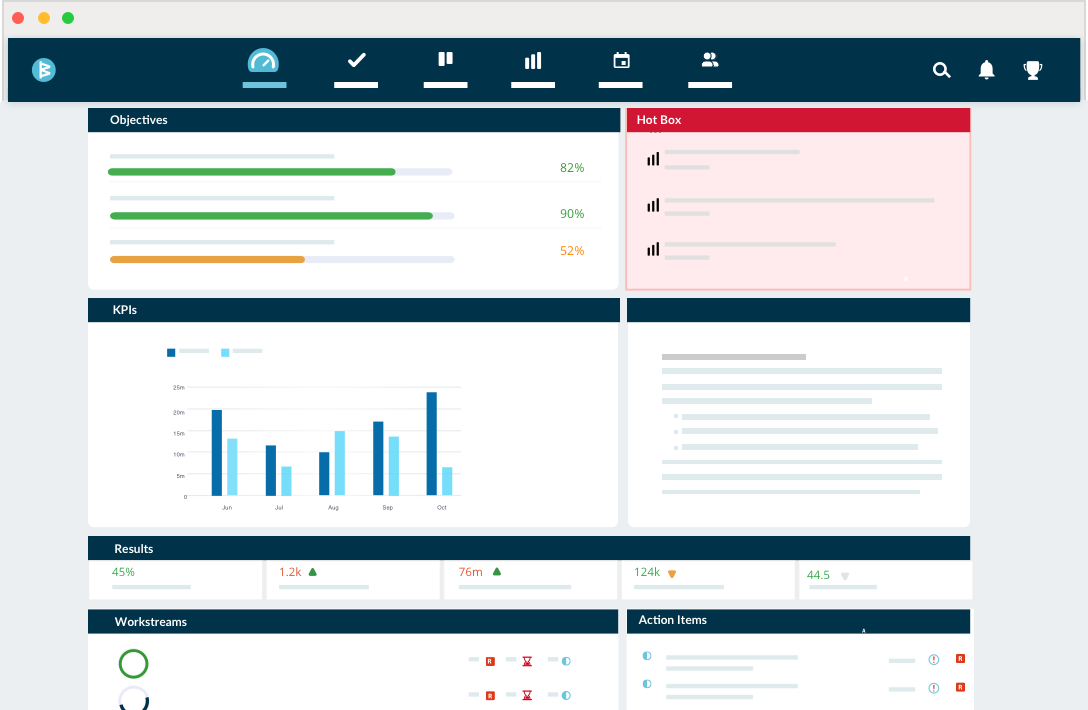 In this new work-from-home world, it's vital that every team in the organization is aligned on outcomes and has full transparency into progress toward results. WorkBoard's March 2020 release is packed with cool new capabilities that make it easier for customers to share, engage on, and gain insights into their results.
Customizable Business Review dashboards
With WorkBoard's Running Business Reviews, users could already get and share continuous, contextual results data to make good operating decisions, without tedious slide deck creation. Now, leaders have full control over the layout and structure of their dashboards, so they can organize their data for maximum impact and tell the story they need for their next virtual business review meeting.
Greater transparency for distributed teams' results
When managers and team members aren't in the same building, transparency and the ability to engage with results on demand become more important than ever. With WorkBoard, managers and teammates can quickly access results from a simple name search, and to add comments or cheer progress with a single click. Managers also have a convenient view of all results belonging to their direct and dotted reports, so they can quickly spot and address any risks.
OKR alignment visualization options
Everyone in the organization wants to understand how their work contributes to the organization's progress — especially when they are physically isolated from their teammates. WorkBoard gives users an alignment tree visualization that allows them to see how their team's OKRs fit into the larger picture. In addition to exploring the alignment tree by objective and manager, they can now browse by team.
We'd love to show you how you can leverage these new capabilities to drive greater alignment and transparency in your own organization. Book a demo now!