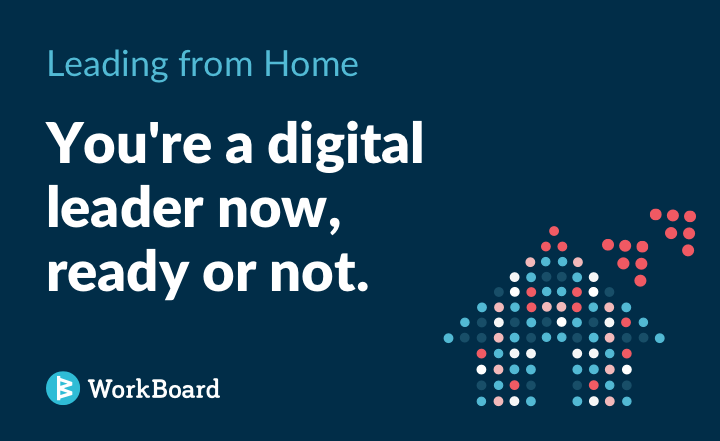 You're a digital leader now, ready or not. While you're no doubt having a harder time setting next quarter's OKRs, the fact is you do have a way to align your now-distributed organization around objectives and results that reflect the world now. In addition to shifting OKRs, you'll need to scale your leadership capacity and operate with high trust and efficiency by:
Reducing employee spin with more narrative on your Objectives
Working transparently to build trust and efficiency
Running smarter meetings to spare energy and time
Read on to see why these are crucial and how to immediately activate them with WorkBoard.
To stop employee spin, don't skip OKRs this quarter — over-communicate them
Your organization is looking to you for direction more than ever, and they're bombarded by messages of doom and distraction. Avoid the temptation to skip OKRs this cycle because you don't have perfect foresight – use them instead to channel energy, reinforce purposeful work, and harness the capacity you have to drive value to customers and the company. What was "run and grow" the business will be "run and respond"; consider a 45-day horizon for "response" OKR(s). Use these WorkBoard capabilities now:
Add more narrative for your objectives to provide deeper context and over-communicate reasoning.
Give every employee access to WorkBoard to see your objectives, what's important now and how you've defined success. This will give you scale and reach, so while you focus on troubleshooting, your org is focused too.
Working transparently is the foundation of trust and effectiveness
Don't underestimate the role proximity played in people's ability to make good decisions, do good work, and manage their teams. Transparency on commitments, actions, and decisions helps inter-dependent colleagues be more effective and is the foundation of trust between employees and managers. Transparency enables managers and teammates to see progress toward key results without asking for it; everyone is more effective when "where are you on this?" isn't the dominant conversation.
Use these WorkBoard capabilities to get instant transparency:
Use an Operations workstream with your staff to track agreed-upon actions and give everyone status visiblity without asking for it.
Use another workstream to capture, organize, and progress the actions in your COVID response so ownership, due dates, and status are canonical and available to stakeholders everywhere.
Turn on the WorkBoard daily digest summary report to see what progressed today (and what didn't).

Avoid meeting mania to spare energy and resources

Most of us have had twice as many meetings the last two weeks and it's not sustainable. Meeting all day saps energy and leaves everyone frustrated by their inability to do meaningful work — and meaningful work is exactly where you need focus.

If you've applied the two tactics above, you can avoid meetings to get status on results and actions. Now, increase meeting impact and follow-through with these WorkBoard capabilities:

Create smart meeting agendas in WorkBoard ahead of your meetings to focus discussions. Put specific KRs and actions on the agenda for fact-based conversations.

Track actions from these meetings in your Operations workstream, and they'll automatically be on the agenda in the next meeting for follow-through.
Use the automatic weekly snapshots generated for each of your workstreams to see what's changed this week — where are the new red flags, what got done, and what's now fallen behind schedule (automated status reports was one of our earliest features built from our WFH experience at IBM-scale).

Leading from home requires new practices. Your assistant can't print reports and walk them over, you won't have enough hours in the day to get all your answers through meetings, and you don't want to devolve to chasing people down for status. Fortunately, WorkBoard can do more of that for you! We'd love to show you more.

See Last Post: 10 Ways to Keep Teams Moving Toward Results.