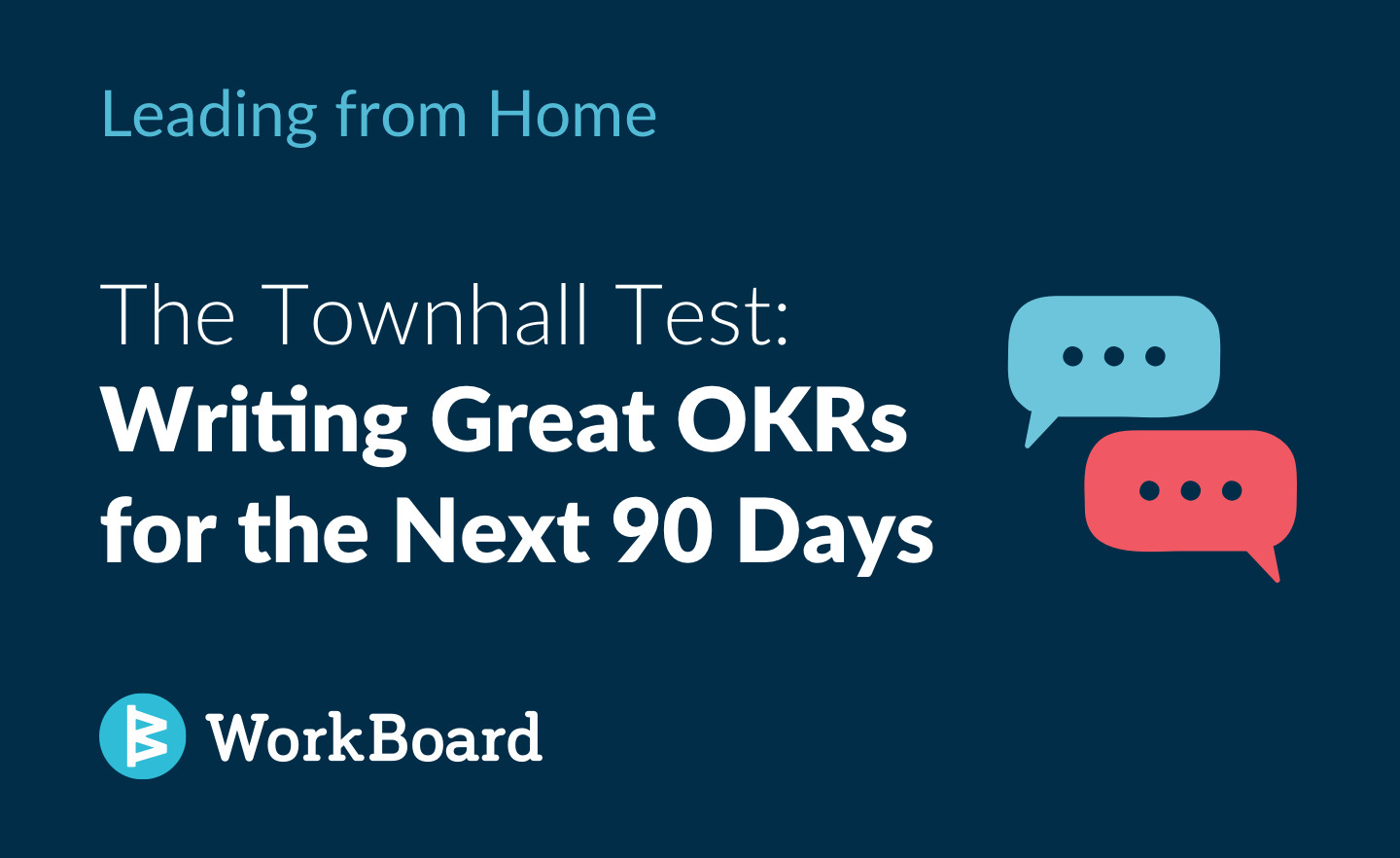 As you craft your OKRs for the next 90 days, your objectives should change — that could be a tone change or a full pivot. What your organization does next will have a lasting impact on its customers and employees. Service excellence, compassion and courageous authenticity will long be remembered, and their absence will be as well. Strong companies will invest in better products and digital resiliency while cash-constrained competitors won't. All of these factors will inform your objectives for the next 90 days and the tips below can help as you step forward:
Shift from "Run & Grow" to "Run & Respond"
The definition of success we all had in the first few months of 2020 has changed; use OKRs to create clarity on the measure of success now — people need the clear signal and this is a good quarter to be more directive in the OKR discussion. Most organizations will want to include objectives for sharper focus on running the business on its prior course and shifting in response to the pandemic and its economic impact. Fewer objectives with fewer KRs will focus attention and give you flexibility for circumstances you can't predict. These questions can help you frame your OKRs:
How do we keep team members that are providing essential services safe?
How do we re-prioritize to serve critical infrastructure and societal needs?
What is needed to enable the shift to effectively working and advancing business from home?
What do your customers need in the next 3-6 months? What don't they need?
What is essential that needs much higher attention now than in prior quarters?
What does "great" look like now?
What is not important in the next 90 days that needs to be clarified?
War-Time Verbs
Words that resonate in boom time will sound tone deaf today, so refresh your language to motivate forward progress without falling flat or ringing hollow. For example, our people objective went from an intent to scale people and teams for growth to an intent to thrive in adversity as well as prosperity. Consider shifting your inward-facing objectives about consolidating advantage and accelerating growth to be customer value centric.
| | | |
| --- | --- | --- |
| Capture or amplify | | Reinforce |
| Gain share or advantage | | Earn customers' trust or distinguish our brand... |
| Teams deliver extraordinary results | | Equip teams to thrive... |
| Accelerate our lead | | Be an essential solution partner to... |
| Accelerate our product advantage | | Help customers take fuller advantage... |
| Boost our product leadership | | Invest and deliver on high priority capabilities |
The Townhall Test Now
Make sure your new objectives pass the April 2020 townhall test; today your team needs a stronger sense of safety as well as more reassurance, clarity and guidance from you. They're wondering if they or their family will get sick, whether they will have jobs, and may be mourning the lost opportunities that once motivated them at work. Being mindful of their fears and managing your own, your OKRs should rally, motivate and coalesce people around the way forward now. The townhall test is really a leadership test – you've got this.
See Last Post: You're a Digital Leader Now, Ready or Not.