With one look at your calendar, you know this is true: we spend too much time in meetings. Organizations have more than three billion business meetings a year, 25% of which are on irrelevant or unnecessary topics. Ninety percent of meeting attendees daydream and 73% do other work during meetings because they're not an effective use of time. WorkBoard fixes our collective meeting problem by eliminating the need for status meetings and improving meetings for ideation, decisions and addressing roadblocks.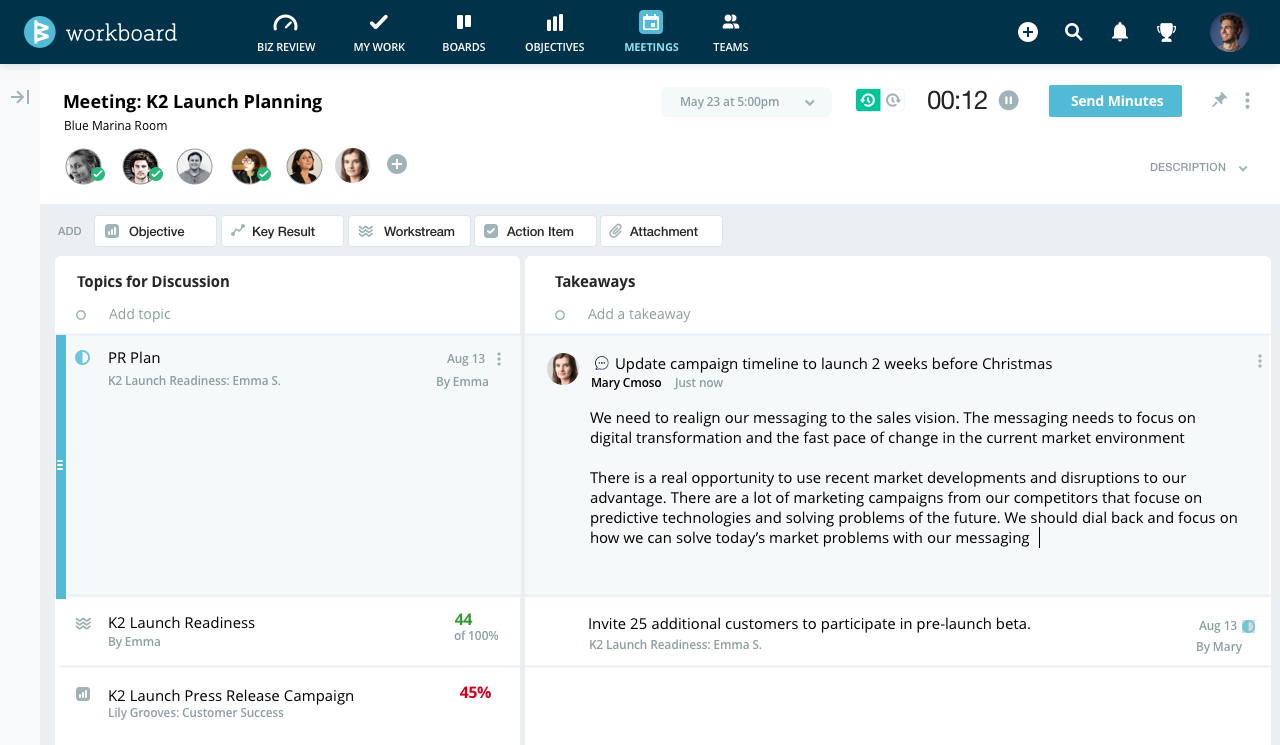 ---
"The majority of meetings should be discussion that lead to decisions."
– Patrick Lencioni
---
Now we've released Meetings 3.0 to make your meetings even smarter and shorter! With this latest release, WorkBoard's Smart Agendas™ get new capabilities to keep everyone focused on the facts and decisions to be made:
A cool "track along" feature enables remote participants to follow along topic-to-topic from their browser even without sharing the screen.
Expanded notes areas make capturing decisions and takeaways a breeze.
Threaded meeting minutes are automatically published so everyone walks away with the same understanding.
Assign takeaways as actions using @ mentions and hashtags for different projects, and the full notes and takeaway are included for context and completion.
Add one or more topics to agendas of recurring meetings and take them off when they're no longer relevant.
In addition to putting objectives, metrics, projects and deliverables on the agenda, now you can add images and files as topics for discussion.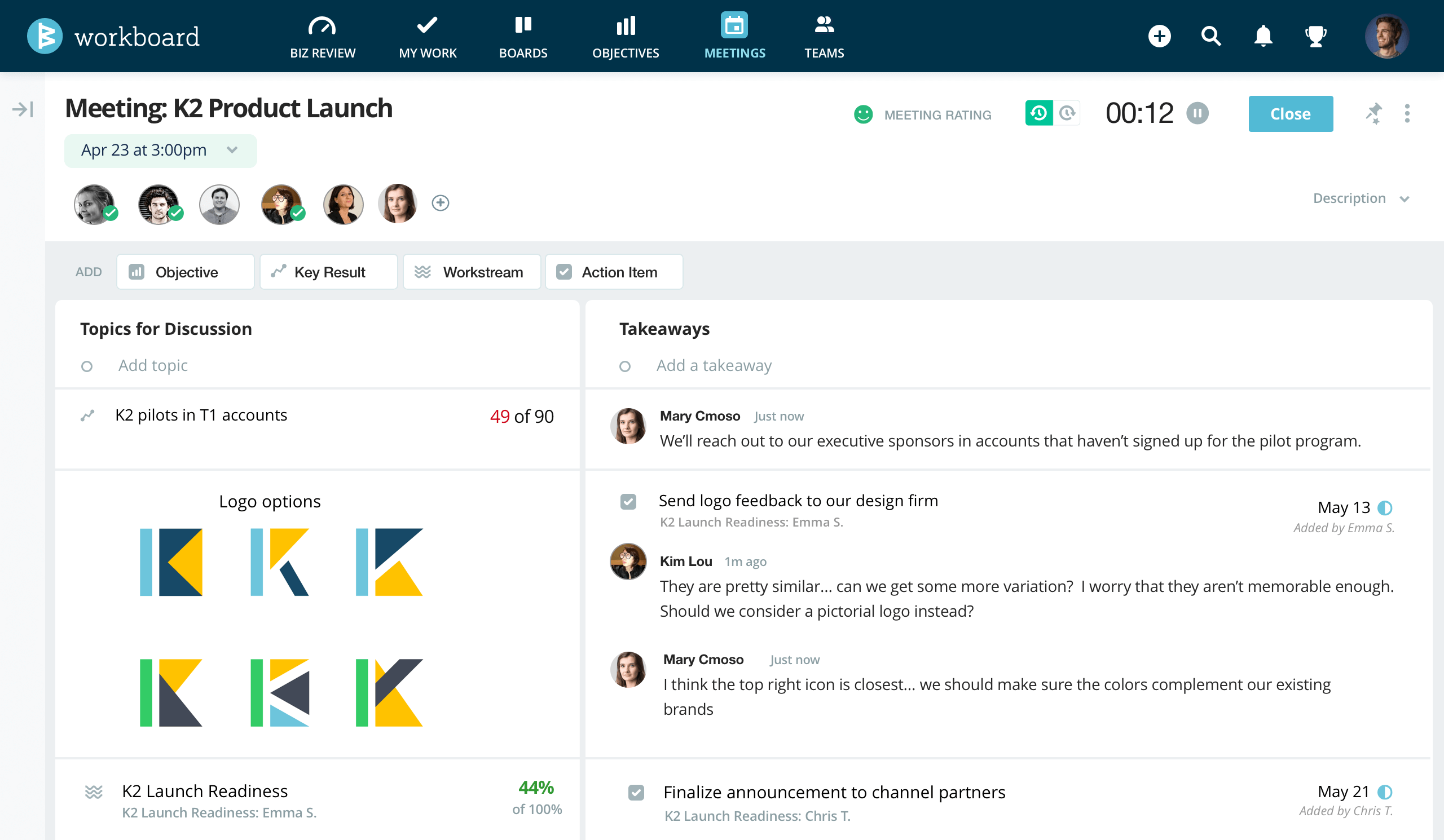 How was the meeting?
A two-hour weekly meeting with twenty people costs about $200,000 a year and has a tremendous effect on team dynamics. WorkBoard now provides an easy social way to get feedback so time spent in meetings is valuable for the business and team dynamics.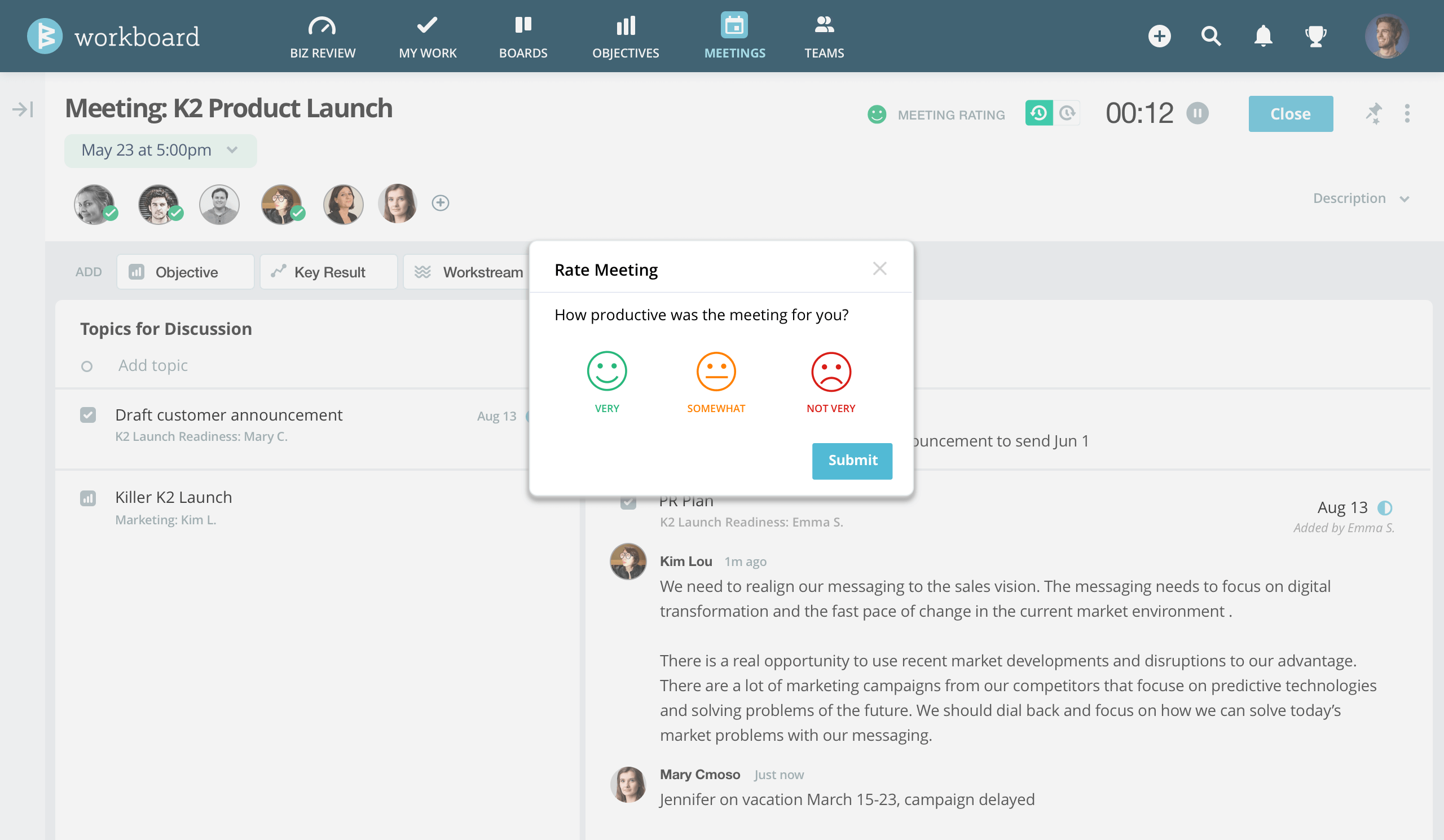 Meetings 3.0 is part of WorkBoard's flagship Active Strategy Management Solution which helps organizations set, measure and execute on their strategic priorities. Fact-based meetings on roadblocks and decisions are a crucial part of achieving smarter strategies faster while time wasted in unnecessary meetings undermines your achievement capacity by 25% or more.
WorkBoard Enterprise Results Platform
A digital, data-driven approach to iterating and activating strategic priorities
Cascade objectives and strategic priorities to functional teams
Measure KPIs transparently and objectively
Manage goal-aligned projects and actions easily
Surface and address risks and decisions quickly in fact-based meetings
Get continuous Business Reviews and dashboards for visibility
We're excited to rollout these new meeting capabilities for enterprise – now customers have more time to think, act and iterate on strategic priorities!
Get a free consultation and demo on how to eliminate status meetings and focus the team's time on decision-making and addressing roadblocks!