Today we're excited to announce the general availability of our newWorkBoard Elite app. Our first premium app makes it easy for managers to set and achieve their goals by linking goals, work, progress transparency and feedback together. It is seamlessly connected to the WorkBoard Basic app, so now your teams actions, real time priorities and progress always align to your business goals and metrics.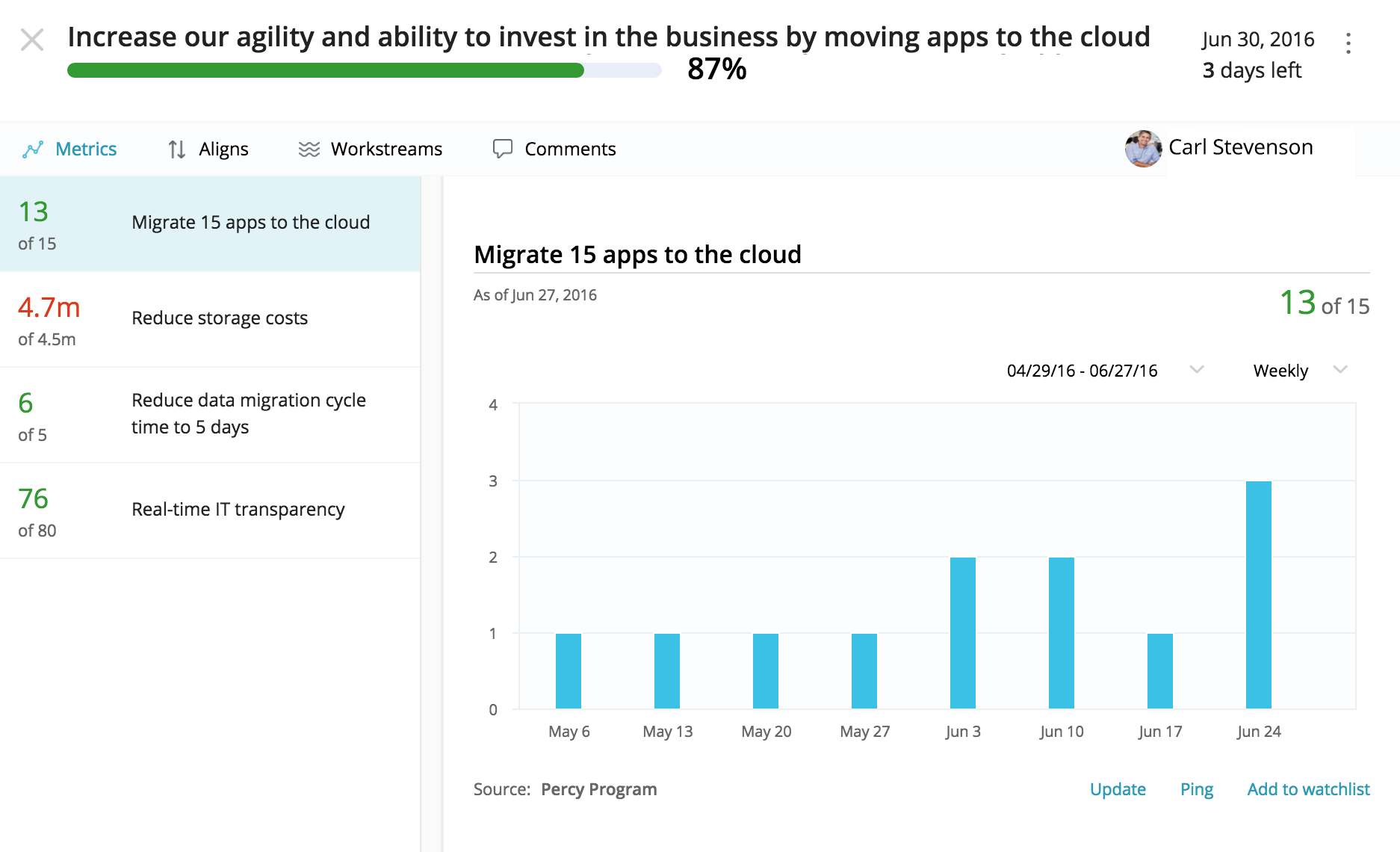 WorkBoard Elite helps managers better communicate business goals and the metrics for success to their teams and more effectively align efforts and actions. It's fun and incredibly easy to use so any manager can make goals and success more clear, even if they're not experts.

There's never been a better time to simplify and unify OKRs: 76% of people say they use a To Do list but only 7% of people understand their organization's goals and what they need to do to achieve them. Too often, goals are fuzzy, quickly forgotten or irrelevant. Not surprisingly, only 13% of employees report being actively engaged in their work.

The new WorkBoard Elite app is strategic complement to the WorkBoard Basic app for managers so they can more easily:
Communicate goals and metrics to their teams and across the organization
Define and execute the work needed to achieve objectives
Provide goal and execution reporting and transparency to stakeholders
Enable more frequent, fact-based feedback to team members on their work
How It Works
The premium WorkBoard Elite app is available right from the original WorkBoard Basic app (which continues to be available free for up to 10 users). WorkBoard is offering a 14-day free trial of the new Elite app; users can get the trial and upgrade anytime. The subscription includes:
Create and cascade goals that inspire: Publish goals for each function and team you lead to focus efforts, then cascade and connect goals through the organization. A smart goals wizard walks managers through goal setting in less than a minute, so even those unfamiliar with metrics can be better leaders.
Define and chart metrics for success: Quantify success with the ability to set multiple key results for each goal and choose from several chart options to graph progress. Team members tasked with metric updates get reminders while everyone's charts are automatically updated.
Update dashboards on progress to goal: Eliminate tedious reporting and get visibility with goal dashboards that show days remaining and progress to target. See the execution status of work to support goal achievement, including red flags and delays.
See goals and progress across the organization: Refined transparency settings let you selectively share goals and metrics with up-line managers, direct reports, internal and external collaborators. Navigate the org chart to see cross-organization goal achievement.
Link goals to the team's work to build purpose and identify risks: With our free companion Basic app, you can link your team's work to goals and OKRs, and teams can see what they're striving for. Everyone has real-time execution status on the work needed to achieve shared goals.
Set Goals & Metrics Today!
Start your 14-day free trial today — your team will love the clarity and you'll love the momentum clear goals and metrics provide. It takes just 2 minutes to get goals in place to align effort and actions.